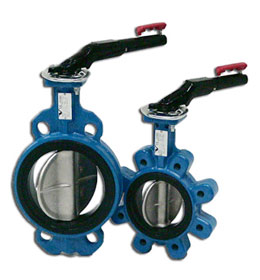 Standard: API 609、ASME B16.34、AWWA C504、ISO 5208、ISO 5211、ISO 5752
Size: 1.5" - 48"
Face To Face: ISO 5752 TABLE 5 SHORT
Flange connections: ANSI 125/150、JIS 10K、DIN PN10/16
Woking pressure: Maximum 16 bar
Temp range: -20ºC - 204ºC
Marking: DIN EN 19
Design of connections: Wafer,lug and flange type
Material: Cast iron, ductile iron, stainless steel, duples stainless steel
Manufacturer: Value Valve
Narrow tolerances - Precision-machined bodies form the basis for perfect seating of the liner and precise positioning of the shaft.
Shaft retainer - The shaft retainer guarantees blow-out resistance of the shaft.
Multiple bearings - The shafts have multiple bearings. Optimal guidance even after many years of use. No contact corrosion.
Continuous forming lobe - The continuous forming lobe fits perfectly in the relevant groove of the body, stabilising the liner.
Polished sealing surfaces - The sealing surfaces are mirror polished and guarantee low torque combined with tightness
Double-sided profiles ensure the sleeve-body engagement in the outer body recess.
Water Treatment
Shipbuilding
Air condition