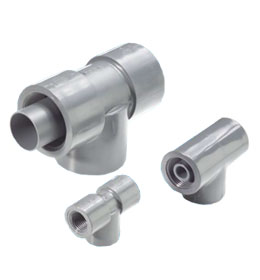 Material: PVC
Size: 1/2" - 2"
Operating temperature: 0 - 140ºF (60ºC)
Operating pressure: 20psi (1.37 bars) - 125psi (8.6 bars)
Body colour: grey, transparent with slight purple tint
Manufacturer: GE
A wide selection of fluid ejectors are available from GE Infrastructure Water & Process Technologies, ranging from 1/2 to 2-inch pipe size. They are constructed of corrosion resistant PVC material specifically designed for application in water treatment systems. Our ejectors are available in U.S. standard socket weld ends and NPT ends. Add an "S" suffix to the series number when ordering ejectors with socket weld ends.
Series 540 ejectors will operate at temperatures up to 140°F (60°C). Minimum operating pressure is 20 psi (1.37 bars), and maximum operating pressure is 125 psi (8.6 bars). The ejector cartridge is chemically bonded inside the housing for long, trouble-free life. For optimum performance, ejectors should be installed so that a piece of straight pipe extends from the discharge area.
Optimal Performance
Economical
Durable
Corrosion Resistant